Magic Using Candles for Beginners and Veterans Alike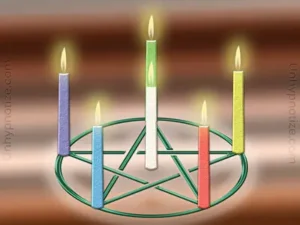 I am writing this article for performing magic using candles for the beginner. I want to make this easy for those who have never done spells before, also for those who are just starting into magic. It also is to give more light to those who have been working magic using candles for a very long time.
Magic Using Candles is a Simple Concept
To do magic using candles, it can be as simple as using one candle, or it can be as complex as using many candles and many ingredients and/or stones.
Performing spells and magic using candles, you need to find yourself a quiet place to do your magic. The place you are in can be dark or it can be light, but I find that dark is better. Light your candle and focus on what you want to achieve through spell.
Be specific. Just like with wishes with a genie, you should be as specific as possible or your spell may go awry. Try not to let your mind drift. Use the flame to stay focused on your spell's goal.
Candles are your focus, your main focal point. Performing magic using candles is extremely helpful when you want to maintain a focus; I can't stress that enough.
Candles, while keeping your focus, also have a mesmerizing effect which can put you into a trance. If you are in a trance while working spells, you often channel forces that you require to enhance your spells and rituals.
Candles, while not 100% necessary for spells and rituals, are a staple in the Witchcraft world. They are calming, soothing, and mesmerizing all at the same time. You can also absorb the heat energy that comes from the flame.
You can kill two birds with one stone by using scented candles in your rituals and spells. If you use scented candles, you can eliminate the need for incense.
Some Wiccans and Witches like to have an altar which they use for all of their magic workings including simple candle magic. An altar is not necessary; however, it is greatly beneficial.
What is an Altar?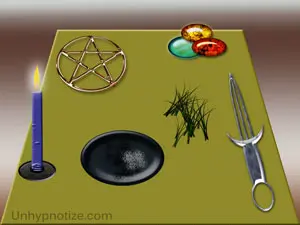 An altar (when it comes to Witchcraft) is a flat surface which is used for all of your items for casting spells. It houses your herbs, potions, candles, oils, trinkets, and other items associated with your spells. An altar can be a table-top, or top of a dresser, window sill, or shelving unit, etc. The thing that gives your altar power is that it is the place where you do your spells often so the energy that surrounds your altar gives you extra power for all of your spells. You could think of it as a charged place; charged with your energy, and the way you cast.
And finally…
There are not many spells or rituals where you will not want to use candles. That is why they are such an important staple.
Candles help you to focus your intent, and intent is everything in any spell or ritual. Be confident. Focus on that flame and feel that heat; absorb it. Get in your trance and do your magic using candles of all shapes, sizes, and scents.
If you have any questions or comments, please feel free to use the comments below, or you can visit Unhypnotize.com's Wicca/Witchcraft section and discuss it there. I am open to comments, questions, and criticism alike. Your thoughts are an important part of everyone's learning process.