The Loft Bed Journey
For the last 3-4 weeks, we decided to make a loft bed for each of our girls. We honestly didn't think it would take as long as it did. The (somewhat) finished project is fantastic, to say the least, and it was worth every minute spent on them, but it was VERY time consuming.
This is not something we planned overnight. No, this was in the planning stages for probably a couple months or so before something suitable was drawn up. Then it was time to go buy the supplies needed to put everything together. Once all the wood was cut and drilled (which took a few days), that's when the fun really began.
My Dining Room Mess
Because we have no other place to build these beds, my dining room, the room where I take clients for readings, was chosen to host the process. I would later come to partially regret this decision, but we had no other choice. And so it began, 3 weeks of agonizing, "When will it end??" stressful work.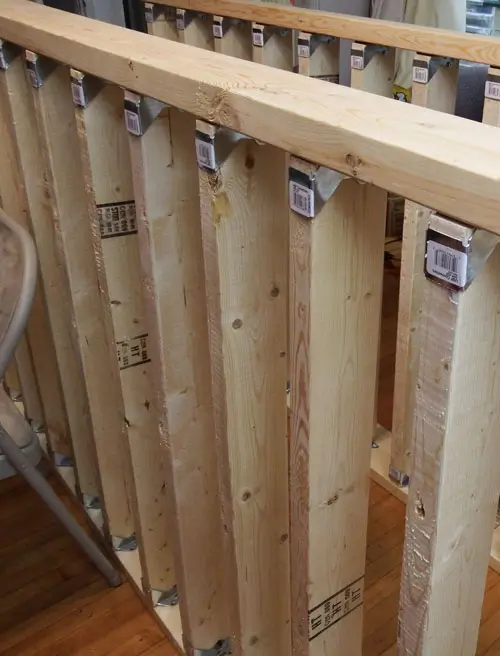 The wood was being assembled, resembling beds. Nice! They looked great! Now they needed sanding.
Yes, in hindsight, the wood should have all been sanded first, but, you live and learn along the way.
So, sanding began. And sanding continued for at least 3 or 4 days. With a palm sander. Electric. Dust was everywhere. (It still is as I write this.) In hindsight (gotta love hindsight) I should have shut down my computer (which is right in the middle of this) and covered it to prevent it from filling with the dust from all the sanding. Silly me, and I KNOW better too! With sanding complete, it was now time to paint.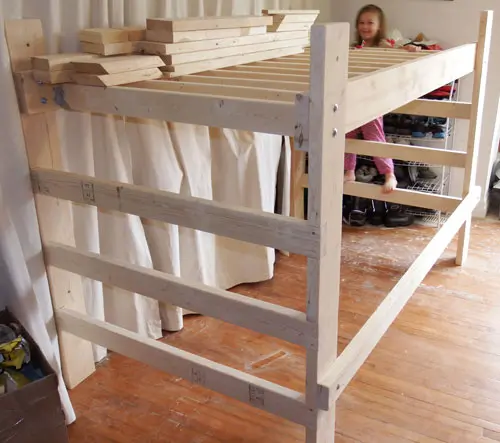 Two coats of primer and 2 coats of paint later (which all took 3 days in total, just for the beds, not including the railings or support bars), these beds were really starting to look fantastic. I could hardly believe that we built them they looked so good. (Not that I don't have faith in our abilities, I do, it more along the lines that they looked professionally built like something from a store, factory made.)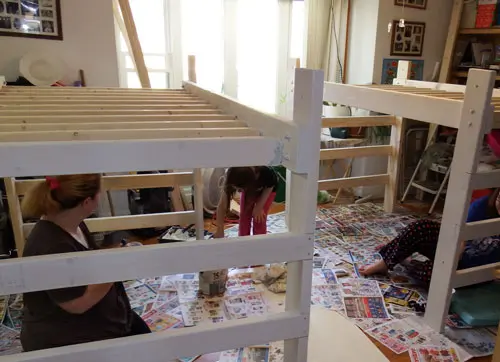 Moving Each Loft Bed To The Bedroom Upstairs
Oh, my, GOD! What a chore!
It was a task and a half, I'll say that, but we got them apart, up there, and back together without issue. However, when disassembling them, hindsight, once again, we should have not only sanded before assembly, but painted before as well (which is what we plan to do for the next ones we build).
Unfortunately, by the time we got to moving the beds from the dining room, it was too late in the day to move both, so that bled into the next day.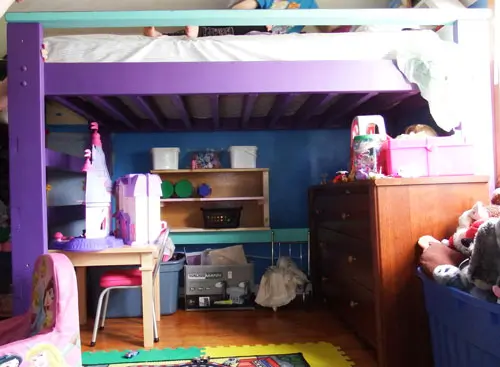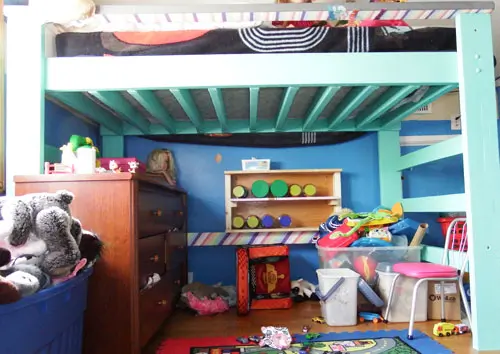 Time for the railings and backer support bar for these beds.
Railings And Support Bars
The support bars were actually painted during the time the paint on the beds was drying while everything was still in the dining room, as were the undersides of two of the railings. The other two railings, and the tops of the two that were previously done (and were in use overnight) were done in the coming days.
Lets now go over the stress and detail of these six pieces of wood.
The one support bar was nothing, really, as it was a solid color. No big thing. That was the simplest part of it all. I think it was the rainbows that damn near killed me.
I have one child who insisted on having rainbows on all of her cross bars. But not all the same types of rainbows. The support bar had to be diagonal (which goes all the way around, and incidentally looks a lot like wrapping paper), the upper railings, one had to be straight rainbows, and the other curvy rainbows. I must say, the diagonal ones were THE HARDEST bit of painting I did on this entire job. The diagonals alone took me an entire day, I worked for 10 hours, stopping for maybe a total of 2 hours during that time for small breaks and to eat, so, the painting itself took 8 HOURS! It was worth it, but still, it was tedious and stressful. And I'd do it again if I had to! If doing it for anyone other than one of my kids though, I would have to charge for that kind of work!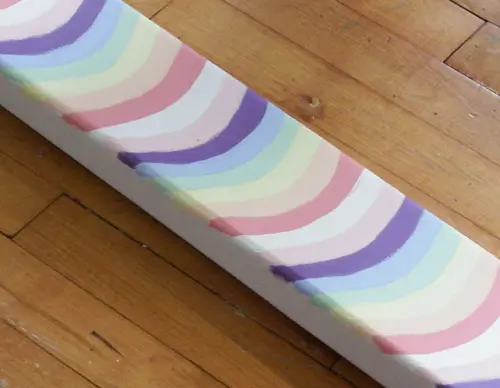 So, then, because my girls LOVE to play cars, I decided to make one of the railings a road for driving on, and learning too as I put multiple lane markings, and the other railing a parking lot so they can park the cars when not in use. Then, it was suggested to me that I put in handicap parking spaces. Me, being the creative sort, LOVED the idea and made it happen. For me, looking at it, it just makes the whole parking lot and it wouldn't be the same without them. And they're super cute! Again, it teaches, so I can't not do it.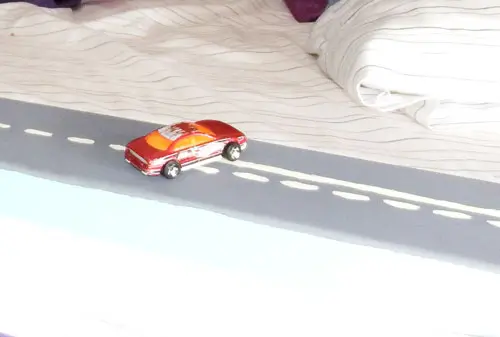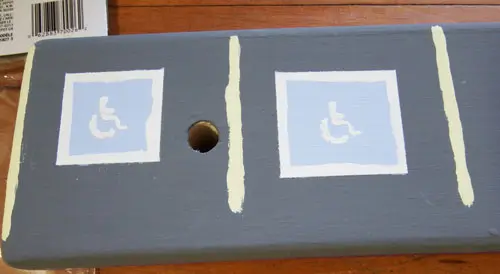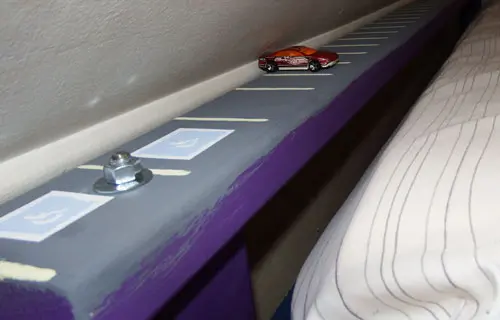 I don't know many people who could or would spend the time I spent on those railings and support bar, for their kids. I love them, and that's why I did it! And, it DOES give me a chance to express my creative nature / abilities.
The (Nearly-) Completed Project
I say "nearly-completed" because each loft bed still needs a curtain added to the bottom as well as detailing with stencils which has yet to be painted on which is set to happen this weekend. And in the future, there is talk of making the road markings and parking lot markings glow in the dark (which I think would look really cool!). Other than that, they are usable, safe, can hold 300+ lbs easily, beds. And they are sturdy!
Plans To Build Another Loft Bed
Yes, we have plans to build another loft bed in the future. We might build 2 more, for sure. But not at the same time. At least not the way we did these. Any other beds we build will be sanded (not in my dining room), and painted before assembly, and will have sat for at least 2 weeks while the paint cures fully. It's a fun process, but VERY time consuming. And for the moment, after the stress of these last beds, we're taking a break from this for a short while. Then, I may just get my own queen-sized loft bed with stairs on the sides. At least, that's the plan.