Have you found god? I have!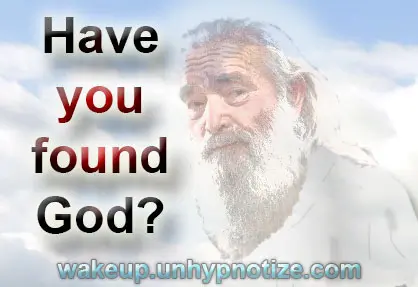 I'm tired of people going door to door selling their brand of religion. If I wanted to be part of a religious order, then I'd belong to a church, a synagog, a mosque, or whatever else. I don't need religion. Maybe you do, but I don't.
Anyhow…
I was thinking about this as I watched 4 individuals (clearly Jehovah's Witnesses) directly across the street talking to my neighbor as he was out on his porch smoking (as he often does). Two ladies were out of the car, part way up his porch talking to him, and two more were still in the car (a grey Volkswagen from the look of it). I got to thinking about my response if they had come to talk to me, and the things that I could do to prevent them from even knocking on my door (signs and things, not that they'd read them).
I had thought of putting a sign on the door stating that I'm a witch and that anyone trying to convert me to their religious beliefs would find themselves changed in unimaginable ways. Of course, by that I mean that I would put a spell on them to allow them to see truth instead of being locked into their current beliefs. For the religious types, that would be an unimaginable change. I'm what you could consider a "white" witch; I don't cause harm to others.
Then, after a while of thinking, other thoughts came rolling through my mind. One of which was to the "Have you found God?" question that these religious types tend to ask.
Of course, the answer (which was better when I initially thought of it) that came to me was: "We are all god. Each one of us is part of a single entity that ultimately started the creation of us all. The "god" I believe in does not watch over us or help us in any way, that is what WE are here for, to help each other. That's the whole point of being here. God does nothing for us, because WE are gods. The problem is, we are gods who don't KNOW we are gods, yet we are all here waiting for a "god" to help us and save us. That is what religion teaches us, to rely on "god" instead of keeping our eyes and our minds open to seeing that it is the people HERE who are there to help us and save us, and us to help and save others as well as ourselves."
Because it's true, we are all gods. We have the power to do and be whatever it is that we want. God doesn't work through anyone; it is the god, the person, that is doing the work on their own. We need to all start seeing that, and relying on that. It's time to start acting like the gods that we are, to start BEING the gods that we are. Be god, because you ARE god!